Article from the November 2021 AARP Newsletter: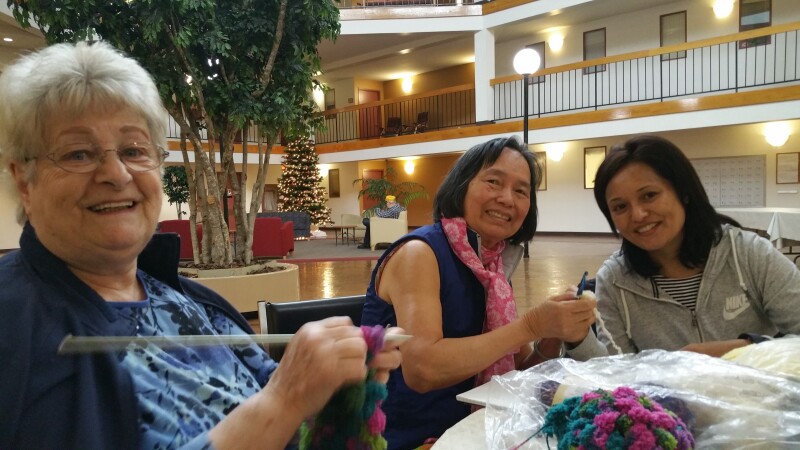 Loudoun Volunteer Caregivers (LVC) is a community of volunteers who help more than 300 frail, aging and disabled neighbors to maintain independence and quality of life. Talk about dedication: some of the volunteers have been working with the same care recipients for 20 years.
This nonprofit organization, founded in 1995, works closely with local faith communities and agencies such as the Department of Family Services, the Department of Mental Disabilities/Mental Health and the Area Agency on Aging to fulfill the needs of Loudoun County residents who do not qualify for sufficient help from county, state or federal agencies.
Transportation to and from medical appointments is the top need of care recipients, according to Susan Mandel Giblin, LVC's executive director. "Our volunteers drive people to and from doctor visits as well as to chemotherapy, radiation and dialysis. Volunteers also bring people home from surgery. This is an important service because taxi companies typically don't transport dialysis or surgical patients due to liability concerns."
In addition, volunteer drivers make sure the care recipient gets inside the residence safely, which taxi services often don't do.
Food is the second-highest need among the organization's clients. "Volunteers take people for shopping, including groceries, and errands like visiting a spouse in assisted living or a nursing home," Mandel Giblin noted.
Individuals with modest incomes who cannot get to a food pantry can have the free food delivered to them. LVC teams with Loudoun Hunger Relief and the Dulles South Food Pantry to make about 200 monthly food deliveries to homebound seniors and adults with disabilities who need supplemental food.
Gift cards that are donated to LVC by church groups or individuals enable care recipients to select what they want from local grocery stores. Mandel Giblin said this enables people on special diets to choose food items that are not always available from food banks.
Volunteers also provide supportive services such as regular phone calls to care recipients who are isolated and lonely. Some volunteers enjoy taking care recipients out for errands, then for lunch. Others stay with homebound individuals who have Alzheimer's, dementia, ALS and Parkinson's disease so loved ones who care for them can do their own errands or take time to recharge.
Teenagers have been providing in-person or telephone companionship to LVC clients through an intergenerational program that Mandel Giblin set up in 2010. Many of their in-person activities, such as doing puzzles or crocheting with clients, are on hold due to the coronavirus pandemic. But teens continue to uplift the spirits of people who often feel isolated at home.
"These kids are doing phone calls and chatting for 15 minutes or up to an hour about what they're doing and what their interests are. It's great for both the seniors and the kids," she said, noting that many teens do not have grandparents nearby.
A family with young children has even "adopted" an older care recipient. "His refrigerator and his walls are covered with crayon drawings. They've become his family because his family is in Greece," Mandel Giblin said.
Another supportive service, the Chore Corps program, leverages energetic volunteers who provide handywork, repairs and other tasks around the home. For example, 15 volunteers from the Dulles South Food Pantry and the Young Men's Service League of South Riding/Dulles South cleaned up a care recipient's property one autumn day in 2020. They made the yard beautiful and safe by organizing tools and building materials, and hauling 40 bags of trash.
LVC's Money Management Program assists low-income adults, who are often vulnerable to financial exploitation or neglect. Trained volunteers help to pay bills, balance check books and link care recipients with food and transportation assistance. Many of the volunteers manage recipients' Social Security benefits as representative payees.
More volunteers of all ages are needed across all these program areas, Mandel Giblin said. Most volunteers and care recipients have received Covid-19 vaccines, although vaccinations are not required.
AARP Virginia has supported Loudoun Volunteer Caregivers for many years. "AARP Virginia is pleased to support and collaborate with LVC. The important and impressive work that LVC does locally is meaningful: they help make it possible for many people to age in place and sustain their independence, which fits well with AARP's purpose," said Amber Nightingale Sultane, AARP Virginia's associate state director for community outreach in northern Virginia.
Loudoun Volunteer Caregivers is based in Leesburg. You can learn about volunteer opportunities or get additional information by phone at (703) 779-8617, by email at lvcaregivers@lvcaregivers.org or on the web at https://www.lvcaregivers.org.
*******************************************************************************
Scott – Mental Illness Just Means I Need Help Now and Then
For as long as I can remember, I've struggled with mental illness. It got worse in my early 20s. All my friends used drugs and drank and, before long, I joined them.
When I was under the influence, I made bad choices. My mental health deteriorated, I couldn't keep a job, and I left those around me hurting. It felt like a downward spiral, and I didn't know where to turn.
No one in Loudoun should have to face mental health challenges alone.
The Next Chapter
My family stepped in to get me help. They took me to a hospital with mental health services that helped me get sober and prescribed me medication to keep me on track. They also connected me to a local nonprofit that, for 19 years now, has been my support system. They manage my finances, make sure I'm paying my bills on time, connected me with job coaches, and get me rides when I have somewhere to go.
With their support, I've turned my life around…
Click here for full story.